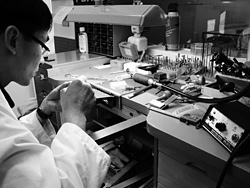 Luan Nguyen is a graduate of Pratt Institute School of Design in New York City. He holds a degree in Fine Arts, with a concentration in 3-D Design and Jewelry Arts. Prior to attending the Pratt Institute, he received training at GIA (Gemological Institute of America) – focusing on jewelry manufacturing art.
After Pratt, Luan joined GemBar in New York City where he refined his design technique and sharpened his fabrication skills. He also gained valuable training as a model maker while working "behind the scene" for many famous jewelry salons.
Luan's quality craftsmanship along with creative design gained the attention of "private clients" who were looking for a designer, jeweler and model maker. These projects have led to many top quality and one-a-kind creations.
After launching his private studio in Chelsea, "the new Soho" of New York - Luan's creative talent was favored by many brides and grooms to create their wedding rings. He provides the brides and grooms the ability to individualize their rings while incorporating quality components and craftsmanship. For these couples, it is a stress free and enjoyable experience. Luan's knowledge of diamonds allows for the couples to shop in the privacy of his studio, without the pressure of a high pitch sale. He educates them about diamonds and provides advice on what to look when buying a diamond.

He believes that quality should always be the main criteria and not the size and always look for ideal cuts and makes - as this will maximize the overall features of the diamond. Most importantly, a well made setting will further enhance the diamond. He assists the couples on the design of their rings and provides valuable input. Because he is also a technician, he knows what can or cannot work in a design – but because of his knowledge, he can re-work the design to incorporate all the important details. Many of Luan's wedding clients are scattered all over the US and also in Asia.

Designing and creating beautiful and classic jewelry are his passion and accordingly, he believes that it must be accompanied by superior craftsmanship. Form and function are the basic foundation of creating a piece of jewelry, which can be further enhanced with quality materials and skillful craftsmanship. When creating a custom piece of jewelry, Luan is involved in all the stages of jewelry making, thus allowing the strictest control of the quality and workmanship. He utilizes premium metals and the highest quality diamonds and precious stones in his designs. He advises clients on diamond selection and keeps them informed of the latest trends in jewelry fashion. Over the years, Luan has gained the trust and friendship of many of his clients.